Why is the doll machine so hard to grasp?
Author: Dinibao release time:2020-09-29 17:19:52CTR:
Doll machine has a magic power. When you walk on the road or stroll in the mall, you can't help spending 10 yuan to catch a doll when you see it. This is quite restrained. In the eyes of doll grabbing fans, dolls with different IP and different styles are attractive. If you don't spend tens of thousands of dollars, you won't stop. Even if you encounter rare dolls, you will always catch them.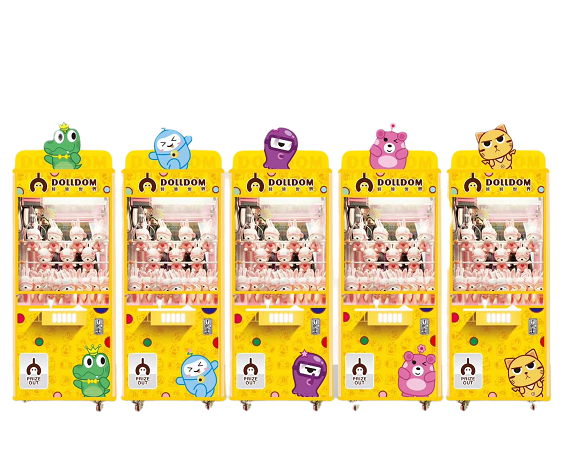 Most people will encounter this kind of situation when they are catching a doll. The doll has been lifted by the paw and is about to be caught. After 2 seconds, the doll falls down, and then repeatedly throws money and grabs it again until it gets angry and impatient. Why is it so difficult to grasp the doll machine?
The owner of a doll grabbing machine revealed that the doll grabbing machine can be set, such as the strength of claws, current intensity, time, and even the probability of catching a baby.
The strength of the gripper can be set by turning on the setting mode of the doll grabbing machine, with strong and weak grip. As the name suggests, a strong grip is better than a weak grip. After catching a baby, the weak grip will fall off soon in the air. When the grip strength is adjusted to the maximum, it is basically a good grasp for a doll. There are also the setting of winning probability, for example, catch 50 times, catch the baby machine boss settings are mostly 30 times, 50 times, if more black hearted, will set the winning probability of 200 times, that is, catch 200 times to catch the baby.
How about catching the doll? First screen the doll machine. If the doll in the doll machine has no edges and corners, and there is no belt. If it is spherical, don't grasp it. This kind of doll machine is more difficult. In addition, you can choose the doll machine that other people have grasped many times but still haven't caught it. Because other people have caught so many times, according to the probability of the doll machine, the probability of catching the baby will increase. Also can try to grasp the baby close to the exit position, use the claw swing amplitude to swing the doll to the exit