Hot selling motorcycle arcade games simulator amusement super motor racing game machine for kids
Product Details:
Place of Origin: Guangzhou, China
Brand Name: DINIBAO
Certification: CE
Machine Name: Super motor
Payment & Shipping Terms:
Minimum Order Quantity: 1
1~5 Price: US$688.00
≥5 Price: US$620.00
Packaging Details: Stretch Film+Bubble Pack+Wood Frame
Delivery Time: 7-10 Working Days
Payment Terms: T/T,Western Union, Cash
Supply Ability: 100 pieces Per Month
Product Details
Hot selling motorcycle arcade games simulator amusement super motor arcade racing game machine for kids
| | |
| --- | --- |
| Name | Kids Super Motor Simulator Arcade Game Machine |
| Type | Simulation Racing Game Machine |
| Size | 68*125*78cm |
| Weight | 50KG |
| Version | English |
| Voltage | 110V/220V |
| Power | 200W |
| Material | Metal+Arcylic+Plastic |
| Player | 1 Player |
| Warranty | 1 year & life long technical support |
Features:

This super motor is equipped with hd display, clear picture quality, bright color,LED bright lights, simulated solid sense design, give you a better game experience, high quality coin slot, non-card coin, smooth operation, stainless steel mat, anti-skid wear, roll plastic environment-friendly PP+ABS material, new 19-inch HIGH-DEFINITION LCD screen, can set 1-9 COINS, the time is 3-9 minutes, can be 4 online games at the same time, more exciting.
How to play:
1. Insert coins and enter the game;
2. Select the track, style and color of the car, then press the confirmation button to select the car.
3. Start the game. Twist the right hand throttle to accelerate, and turn with the brake deceleration;
If the car is knocked off the track, it will automatically return to the track.Continuously twist the gas pedal to keep the body upright.
4. Arrive at the destination, display the ranking, and the game is over.
Video On YouTube:
Machine Details:
| | |
| --- | --- |
| | |
| | |
Product Advantages:

1. Independent R&D, mainboard and machines produced by ourselves, we are the real source of manufacturer.
2. The using of fully enclosed bubble film packaging to prevent moisture and water into the packaging during the process of shipping,
otherwise it will be resulting in rust.
3. 48 hours heat engine requirements. We guarantee all the machines with 48 hours heat before delivery, to reduce machine quality problems.
4. All the internal parts were under strict selection and testing, for example, power supply, LCD, circuit boards, amplifiers, speakers, sound,
lights, and even buttons, acrylic, stickers.
Application:
The product is mainly applied in game center,shopping mall, amusement park, Cinema, Tourism place etc.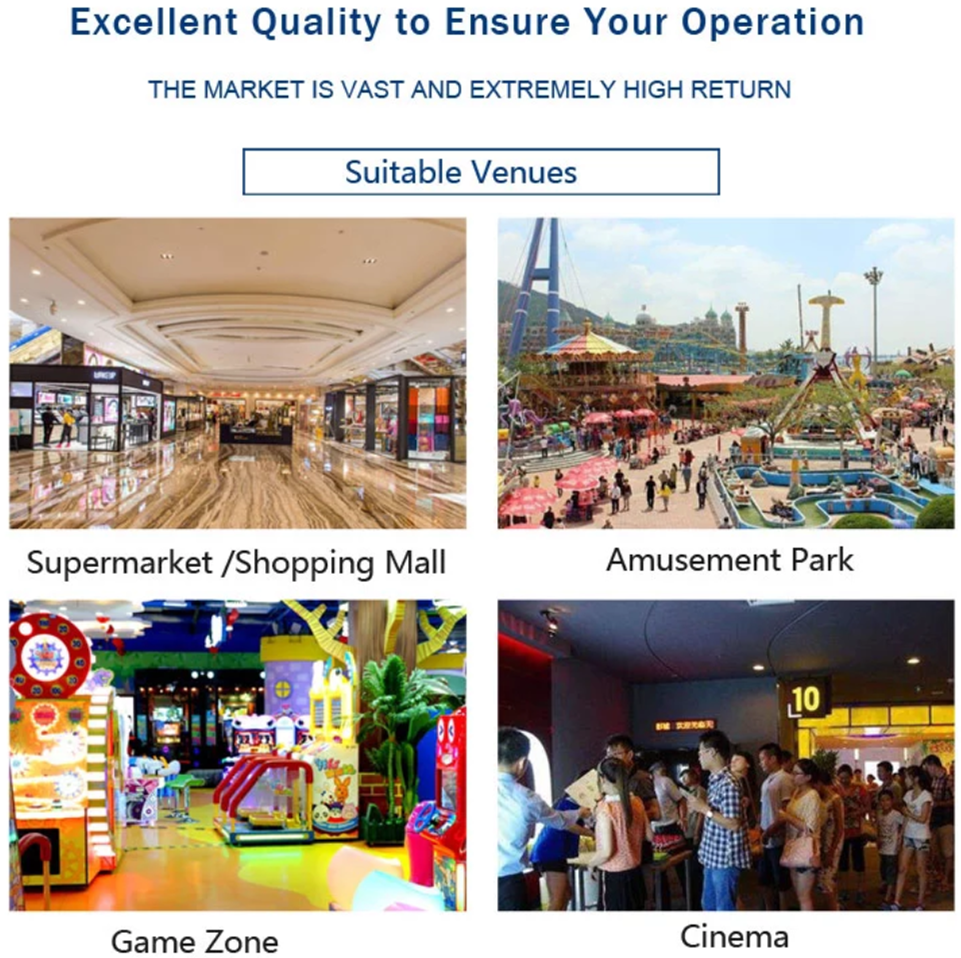 FAQ:
1. Voltage is different in our country. What do we do?
No worry. We can make it 110V,220V,380V to meet different countries' standard.
2. How long will your products last?
All machines are built with brand new high quality components. So the machines are all in long life-span over years, and less fault problem. Customers can get payback soon and make profits for many years.
3. Do you offer English manual? Can you help with installation?
Yes English manual for you. And our technicians will guide you online patiently. It's not difficult. Please do not worry.
4. Do you offer after service, even in our country?
Yes this is an important support. We guarantee 1year warranty + lifetime technical support. Our technicians can also come to you in person if you need technical help, as long as their expenses are covered.
5. We want different games. Can you do that for me?
We have 15years experience in game industry. We are very glad to help our buyers buy whatever machines they like. It is very easy for us. Service is for free.
6. Do you offer site design services?
Yes dear, we have very professional design team. Our designers can make the layout and 3D plan according to your idea and our professional advice. No extra charge. Tell us your plan and site details, CAD drawing is better. Different site has different size, normally one design in 1-7days.
7. Do your company have the certifications that are required for use in our country?
Our Company is CE certified and SGS audited. If you require any additional qualifications, do tell our sales team, and we will help to get them.